In the spirit of youth empowerment, Easy and Possible Organization conducted a talent detection competition in 2017. The latter brought together 318 young people from 12 sectors of Rubavu District. Among those 318 youths, 12 reached the final stage. In this competition, contestants showcased their music and dance skills in front of the judges who are the key players in the Rwandan music industry such as Mr. Alex Muyoboke, who managed the top music stars such as Urban Boyz and Dream Boys groups, Charyl&Nina, Tom Close, Social Mula, etc. Another big name among the judges was Mr. Piano the Groovman, a sound engineer who did great audio songs such as Barandahiye by Kamichi, Ndumiwe by Bruce Melody and others.
In the mid-competition, participants took part in charity activities, for instance, the visit to Gisenyi Hospital whereby they provided assistance to the needy people. The package of that assistance worth 1 Million Rwandan Francs included clothes, soaps, flour, fruits, sugar, food, etc.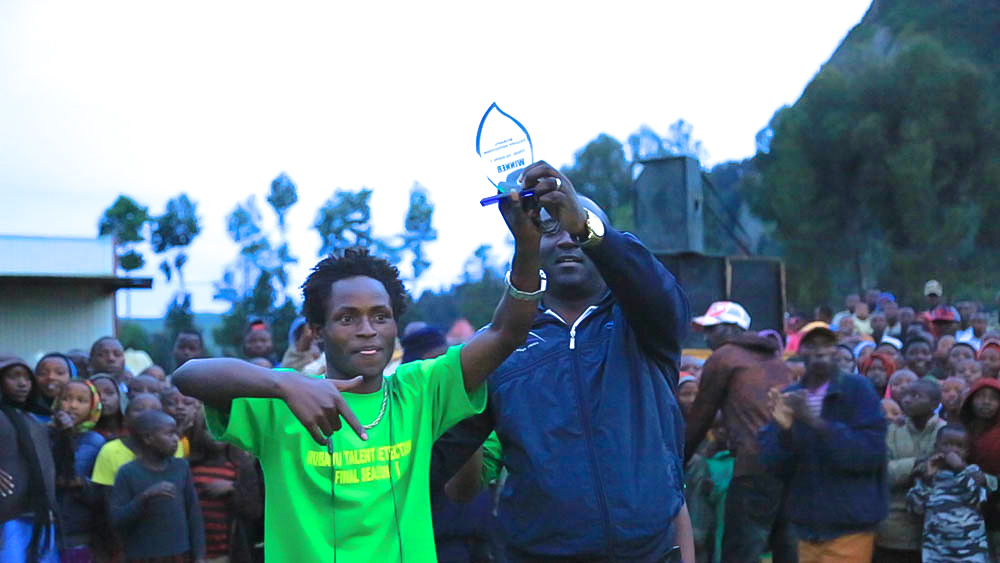 The winner of the 1st edition of Rubavu talent detection: Jean de la Paix Mfitumukiza from Cyanzarwe Sector who walked away with a prize of smartphone offered by MTN Rwanda. However, the bigger reward which is in line with the main objective of the project was the capacity building and promotion of the artist's works. Against this background, Easy and Possible Organization rewarded Mr. Jean de la Paix Mfitumukiza with the 3 year sponsorship contract of audio and video production of unlimited songs and the promotion of them in big media outlets to make sure he becomes a renowned musician at the national level.  The audio and video production of songs of the winner is undoubtedly possible considering that Easy and Possible Organization owns an audio and video production Studio in addition to market and Taxi Park radios without forgetting the strong social media platforms.
Though the competition aimed at detecting the music talents of youth, it ended by raising awareness on the importance of fighting drug among the youth. This awareness was focused on by the Rwanda National Police, an institution which was among the partners in organizing the competition. The latter became also an opportunity for the campaign against unwanted pregnancy since health institutions consider that among pressing issues to the Rwandan female teenagers.
The 1st runner-up came from Mudende Sector, a young man called Jackson Hategekimana who was awarded a one year contract for free audio and video production in the studio owned by Easy and Possible Organization.
Among the popular artists who graced the competition include Jay Polly, Riderman, Young Grace. Theo Bosebabireba and Leonard Nsabimana known for his presidential campaign song "Nda ndambara yantera ubwoba".
Following the success of the 1st edition of Rubavu Talent detection, the local government authorities appreciated this initiative which they found important in the contribution of youth self-employment efforts. Therefore, various stakeholders suggested the expansion of the competition at least to the Western Province level.