On 19th February 2020, Easy and Possible Organization hosted in Rubavu District, a delegation of UNICEF Next Generation, a US Fund for UNICEF USA whose members were on a visit tour in Rwanda to witness different programs funded by UNICEF Rwanda and how they help the most vulnerable. Easy and Possible Organization is in partnership with UNICEF Rwanda since 2018.

During the presentation about activities of Easy and Possible Organization, the guests found out different communication channels used to run social behavior change campaigns in markets and taxi parks taking the case study of Ebola prevention. On this occasion, they learnt how loud speakers in Markets and Taxi Parks are used to spread messages through live shows, mentions, pre-recorded announcements, road shows, plays and songs. Further, the delegation of UNICEF Next Generation was informed on how the support of UNICEF Rwanda contributed to the growth of Easy and Possible Organization which initially was operating in two markets and one taxi park but today thanks to UNICEF Rwanda financial support, sites of operation increased to 10 sites and no longer present in only one district but 3 districts of the Western Province.
RADIO STREAMING
Via the news website www.isano.rw, Easy and Possible Organization communicates to the public in markets and taxi parks using one studio which feeds radios in markets and taxi parks under its management.
Today, Easy and Possible Organization is able to air in at least 31 sites (Western, Northern, Eastern, Southern and Kigali City) located in different corners of the country thanks to radio streaming. With regard to those sites which are not managed by Easy and Possible Organization, radio streaming is done as a result of the Memorandum of Understanding between the mentioned organization and the Union of markets and Taxi Parks radios (The New Voice Union) for the purpose of social behavior change mobilization in as many places as possible across Rwanda. Speaking to the guests, the Chairperson of Easy and Possible Organization, Mr. François Sano Niyigena explained that this communication strategy is very important since it enables the synergy of markets and taxi parks across the country. "In case there is a need for spreading the same message to people from different provinces, we use this way and it helps so much because we agree on the hour and date for airing the same content at the same time." Said Mr. Niyigena.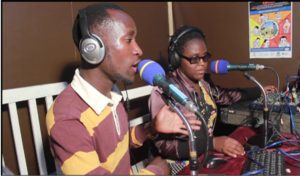 FM RADIO PROJECT
Given that Easy and Possible Organization keeps growing, it is planning in the near future to launch an FM Radio under the name "Isano Radio" and it already acquired the license from the government to broadcast on 92.0FM frequency. So far the basic needs for starting airing are in place such as staff, editorial and studio rooms equipments. All this is at least at 50% of the budget needed for seeing this radio kick off its activities. The programs of Isano Radio will focus on issues in relation with children, youth and women especially in nutrition, agriculture, self-employment, education as well as entertainment.

Founder and Managing Director of UNICEF Next generation, Ms Casey Rotter appreciated efforts of Easy and Possible Organization. "Thank you for this wonderful job", she said. The members of UNICEF next generation urged Easy and Possible Organization to continue social behavior change communication endeavors to as many sectors as possible that affect the lives of the population.
Easy and Possible is a Rwandan Non-Governmental Organization, founded in 2014 by the young university graduates, on the idea of a German lady called KARINA HILDEBRANDT delegated by Friends of Rwanda (a local German NGO).
Activities of  Easy and Possible Organization  focus on Positive masculinity, Fighting against incurable diseases, Peace and culture promotion, Fighting against drugs distribution and consumption, Identification of different talents within beneficiaries, Development of identified talents, Linking the beneficiaries to the financial sources and Vocational work&talents promotion.